I liked the "bad boy." He was the opposite of me. I was Yin. He was Yang. And we were headed straight for destruction.
I should have known that something was not quite right when he "found" me one day at work. Stalked might be a more accurate term. He searched four floors of an office building until he found me. He said someone told him where I sat. I told him he was a liar. He admitted my suspicions were right. Caution bells rang in my head. I turned off the volume.
So time passed. We dated. I was not attracted to him physically. He was average height and skinny. Not my style. But he was gritty. Urban. Different . . . Wrong. And I liked that. And he liked that I was the good girl. He was guns, drugs and alcohol. I went to church every week. A match made in hell. I felt the fire. I turned off my senses.
The relationship went the course that all bad relationships go. He was jealous. He was abusive. And I stayed. He didn't want me around my friends or family. Yet I stayed . . . until I couldn't take it anymore. The only way out was for him to leave me. So I made him miserable. Risky, but it worked. He left. I sold my house and moved. Sometimes you have to leave it all behind.
Often times I think, oh, if I could do it over again. If I had simply heeded to the warning signs. How different, how happy, that time in my life would have been. Then I remember, the slightest change in my life could have set me on a course that led me away from my husband. So I say to myself, it was all worth it because in I truly am the Yin to his Yang.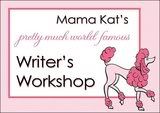 This post was written for Mama Kat's Writer's Workshop.
Prompt #1 was "If you could do it over again . . . "
Don't forget to stop in at
Tell Me Something Good Blog
and join in the conversation!!