Okay, so clearly that's not me, but work with me on this.
photo credit
Back in my senior year of college, there was a major snowfall. My friends and I decided to revert to childhood and have an old fashion snowball fight (hey, I was only 19 years old). So we were out there having a good old time. A guy friend and I started wrestling in the snow. It just so happened that his girlfriend saw us playing and apparently didn't appreciate the physical nature of our play. So . . . . she decided to put me in a head lock. Ummmm . . . wrong move. We slipped. Her left eye met my right knee. She spent the next several days wearing dark sun glasses. In retrospect,
I wish I would have
just punched her in the face. LOL.
Earlier this week, blogger decided to punch me in the face. I sat there and typed my post about
my first date with my husband
. I proofread and pushed the publish button with pride. I received emails stating that I received comments, but each time I viewed my blog, there was NOTHING.
gasp. . .
I whined to my husband, "Babe, my blog is brooookkkeeeennnnnn!!" His response, "Awww . . . "
I wish I would have
punched him in the face. Instead I just scowled at his nonchalant response do my SERIOUS dilemma. I posted a question to Google Help and
Bonnie
tried to help me to no avail.
So I decided to try something different. I emailed everyone in response to their comments. I had great conversations with so many of you that day. In particular,
Christina
and I chatted back and forth for hours. From there, we've decided to collaborate on something pretty special that's forthcoming. Stay tuned for more about that.
I wish I would
have started responding to you guys that way before because it was great having those conversations. Hopefully Google won't feel the need to punch me in the face again, but I definitely appreciate the lesson learned. How do you keep up with followers/visitors who comment on your blog. Do you respond via email? Do you comment back on their blogs?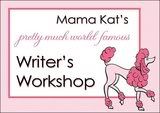 This blog post followed the #2 prompt from Mama Kat's Writing Workshop - I wish I would have…Describe a time when you didn't take action, but later wished you would have. Join in on the fun. Click on photo for link.