The lights were low. I felt his body pressed against mine. I could smell his cologne. I stared into his eyes and he smiled the biggest smile. My palms were sweaty, but he didn't care. He grasped my right hand his in left and his right arm was wrapped tightly around my waist. The room was spinning. . . or maybe we were spinning, but it was all in a slow motion. I was so high . . . he was so high . . . and John Legend sang us away from the rest of the world. This was my wedding day.
I loved that song,
So High
, since the first day I heard it. For my 28th birthday, my husband put together a slide show of our relationship and that song was the soundtrack. There is something about song that reminds me of our love. So when we had to decide on a song for our first dance, there was no question of what OUR song would be. There no need to consider a
rambunctious
booty shaking, arm waving, feet stomping tune or some other ballad. Nothing else would do.
So as we danced. I didn't see my friends and family sitting at the tables looking at us or standing taking pictures. I didn't see the videographer or photographers. I didn't see my daddy beaming or his mom crying (saw that later in the video). I saw him. I saw him smiling. And I was So High.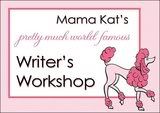 This was submitted as part of
Mama Kat's Writer's Workshop
. I used prompt # 2, Write about your wedding song. What was it and why did you choose it?
This post also contains the
Word of the Week
. Word Up, Yo is a word meme put together by
Natalie
,
Kristen
and
Liz
. This week's Word of the Week is Rambunctious - turbulently active and noisy.
Baby, since the day you came into my life, you made me realize that we were born to fly
~ John Legend, So High