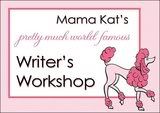 Could it be that I'm not starting with a childhood story?? Maybe I'll think of one by the time I get to the end. I've noticed a lot of the ladies in my blog circle participate in a Writer's Workshop by
Mama Kat
, so I thought I'd try my hand at this workshop.
The focus that I selected was: 10 things sure to put a smile on my face when I'm sad.
1. Babies - I'm not one of those who thinks every baby is ooooh soooo "cute", but I think every baby is adorable. Their baby smile. Their baby smell. Their baby antics. Babies are perfect.
2. Shopping!!!! - I love shopping. The outlet mall is my Mecca and I'm sure to get a smile out of every trip.
3. Reminiscing - When my friends and I get together, every conversation starts with "remember when . . . " Looking at old photos also puts a smile on my face.
4. Birthdays - Although I'm not thrilled with the candles on my cakes increasing, I love birthdays. My friend
Audrey @ I'm so Aud
is celebrating her birthday today (and her official blog launch). If you can, stop by and wish her birthday greetings on her special day.
5. Reading - A really good book can drag me out of my funk and into the life of the story.
6. Eating - I love food. Pasta. Cookies. Pizza. Cake. YUM!!!
7. Swimming - I'm an island girl. I love going to beach. Sand between my toes. Sun on my back. Wading through the beautiful blue refreshing water.
8. DANCING!!! - I can work these hips like a stripper, LOL. I will dance the night away. Great workout. Great stress reliever. Talk about a two for one. Bonus is when my husband joins in with his awkward dance moves. Definitely leaves me in giggles.
9. Singing - I can sing myself into tears or flip it into singing myself into happiness (which is usually accompanied by fits of dancing).
10. Traveling - I love to travel. I wish I could do more of it. Cruising is my most favorite travel method. After cruising it's hard for me to come back to reality.
* I know the usual answer of "my husband" is absent. He has a amazing knack of being both the biggest joy and biggest annoyance in my life. LOL. So he just gets an honorable mention . . . LOL.